Add Instagram fonts for your Bio, just with copy & paste!
Make your Instagram Bio standout, with amazing fonts, thanks to the *magic* of Unicode.
updated on 2020-02-04
Would you like to make your Instagram Bio pop out a little more? This will interest you if you are an influencer and you want to differentiate yourself. Or when you are just bored, and want to spice up your Instagram Bio a little.
The Bio is the first thing the stalkers will see your followers see, when they reach your Instagram profile. It's a good opportunity to make a good impression on them and stand out. Ok, that's pretty easy and probably you already know about these 𝓬𝓸𝓸𝓵 𝓯𝓸𝓷𝓽𝓼. Basically you need Instagram fonts for your bio.
Change your Instagram Fonts, in two steps
Let's cut to the important stuff, this is easy as copy paste:
1. Choose your style
Go to Instagram Fonts for Generator and enter some text you want to style there. Let's suppose you want to style the following Bio: This is my cool little Bio.
Now, type the text of your Bio on the text input field and you will see all the fonts styles available. Just click or tap your favorite style and the text (and fonts) will be copied into the clipboard.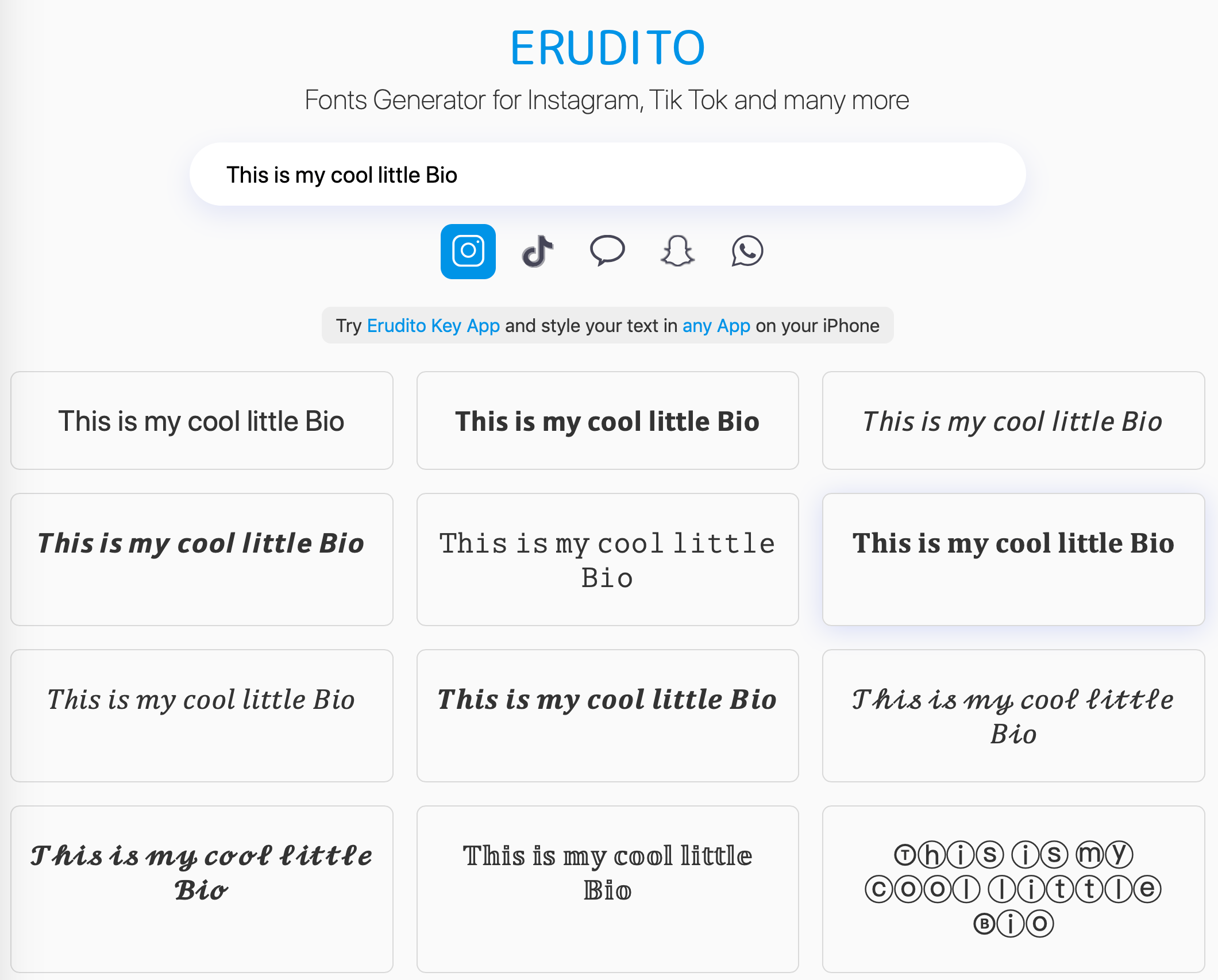 1b. If you are on your iPhone or iPad
If you are on your iPhone, it's possible (and handy) to install Erudito Key Fonts Fonts Pro, it's a keyboard App to change your fonts in iOS, totally free. It's a keyboard App that easily let you change the fonts on Instagram (or any App) right there, it's even easier to use.
2. Paste the text on Instagram
Last, but not least, is filling the Bio of instagram with your brand new text. Following with our previous Bio example, now it has been converted to 𝕋𝕙𝕚𝕤 𝕚𝕤 𝕞𝕪 𝕔𝕠𝕠𝕝 𝕝𝕚𝕥𝕥𝕝𝕖 𝔹𝕚𝕠 showing beautiful Instagram Fonts in your bio.
Just paste the styled text and your done! Voilà!
One extra tip: In case you don't know how to change your Bio, keep reading.
How to change your Bio text
Let's change your Bio in a few steps. This guide appears to be long, but is not, just a few screenshots to guide you, Better be safe than sorry.
Open Instagram and go to Profile
You should be on your home by now, just press your profile to go there

Editing your Profile
Now press on "EDIT PROFILE"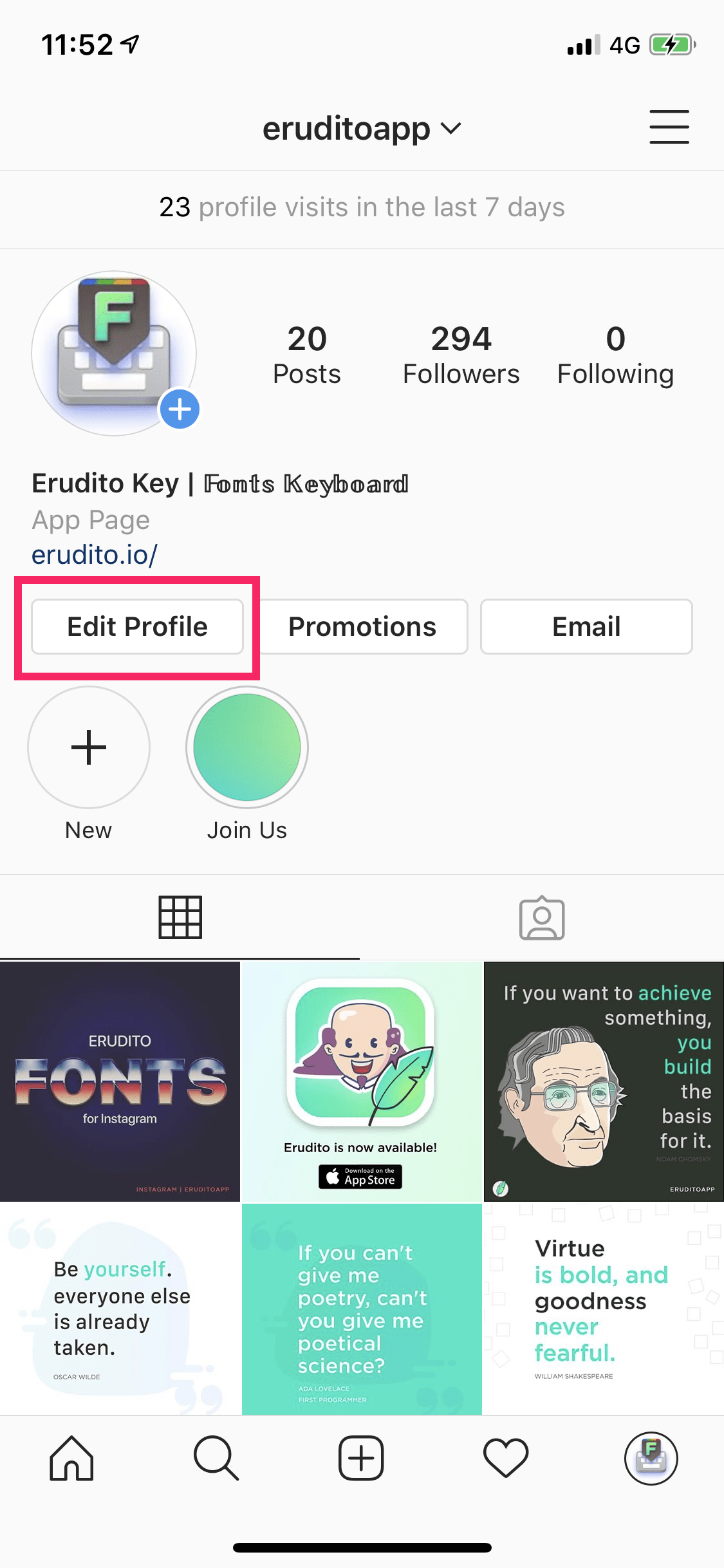 And you will get to this screen, where you should tap or click, in Bio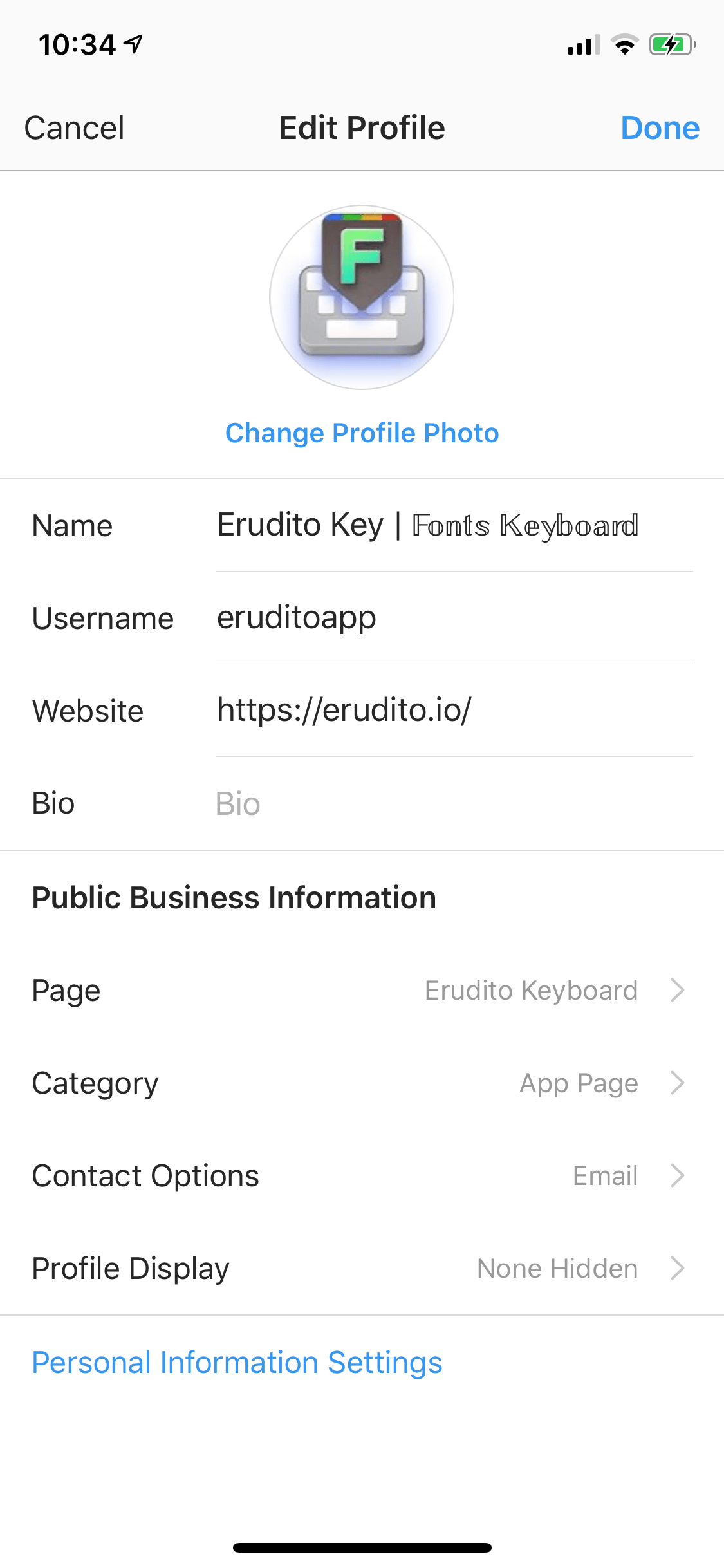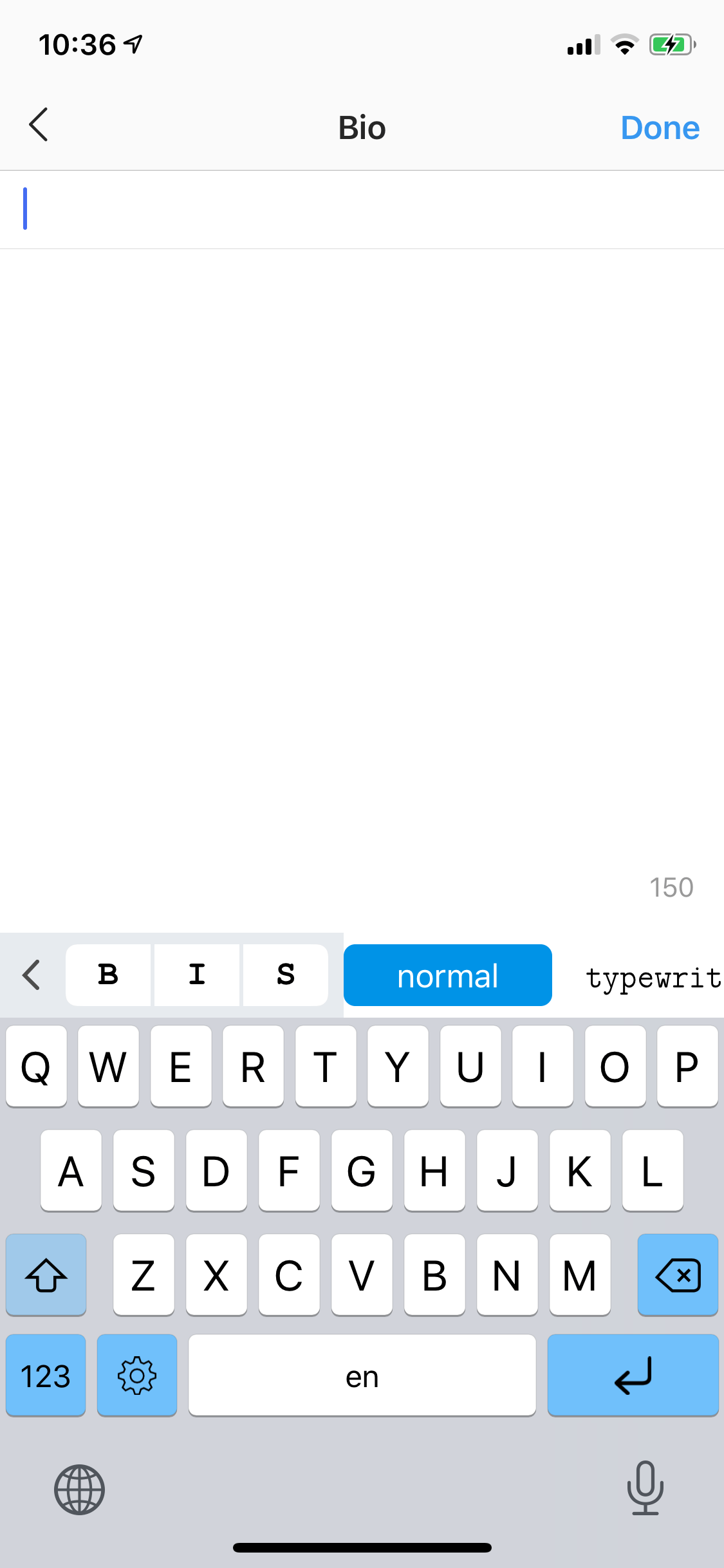 Now paste the text copied from erudito fonts in the Bio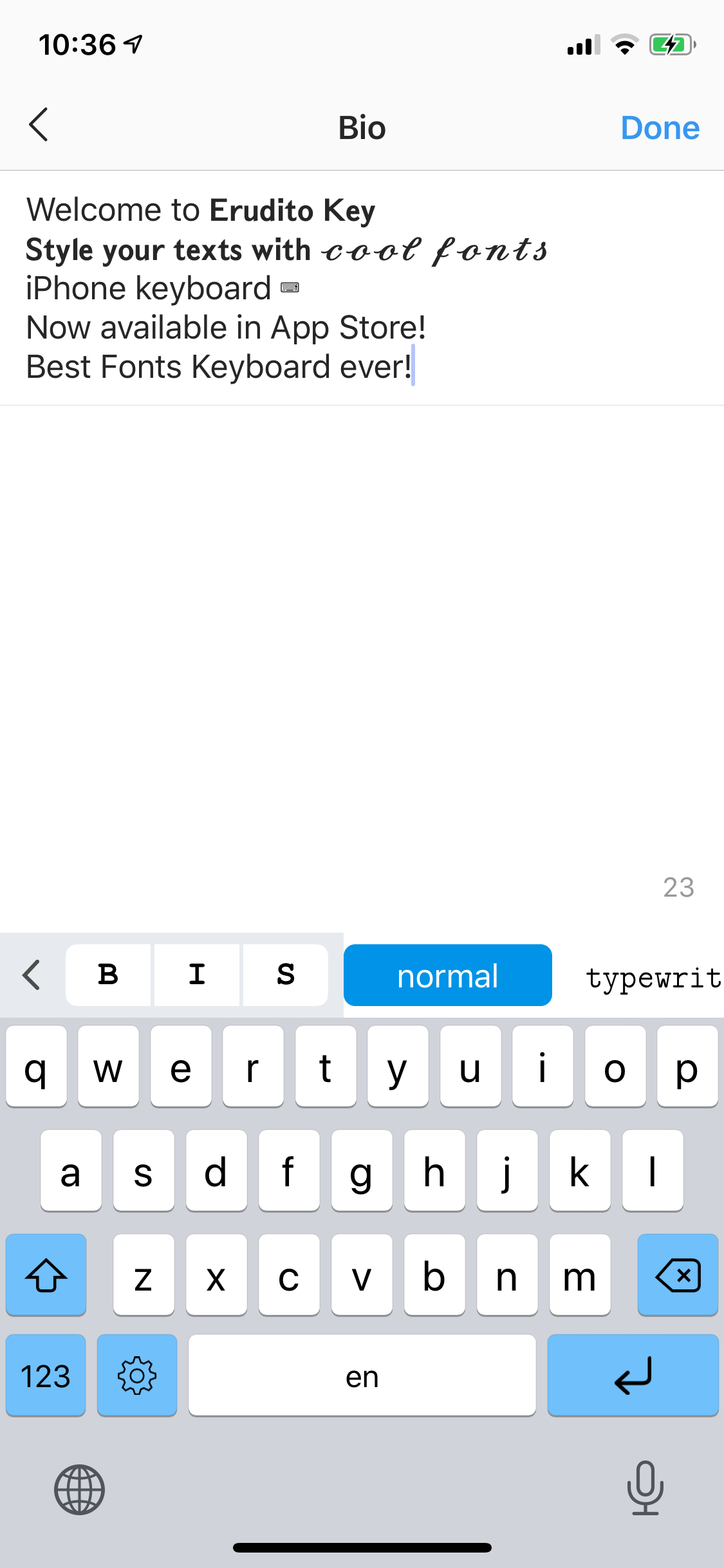 Rejoice! now you have a new and shiny Bio. Just press done and you are all set!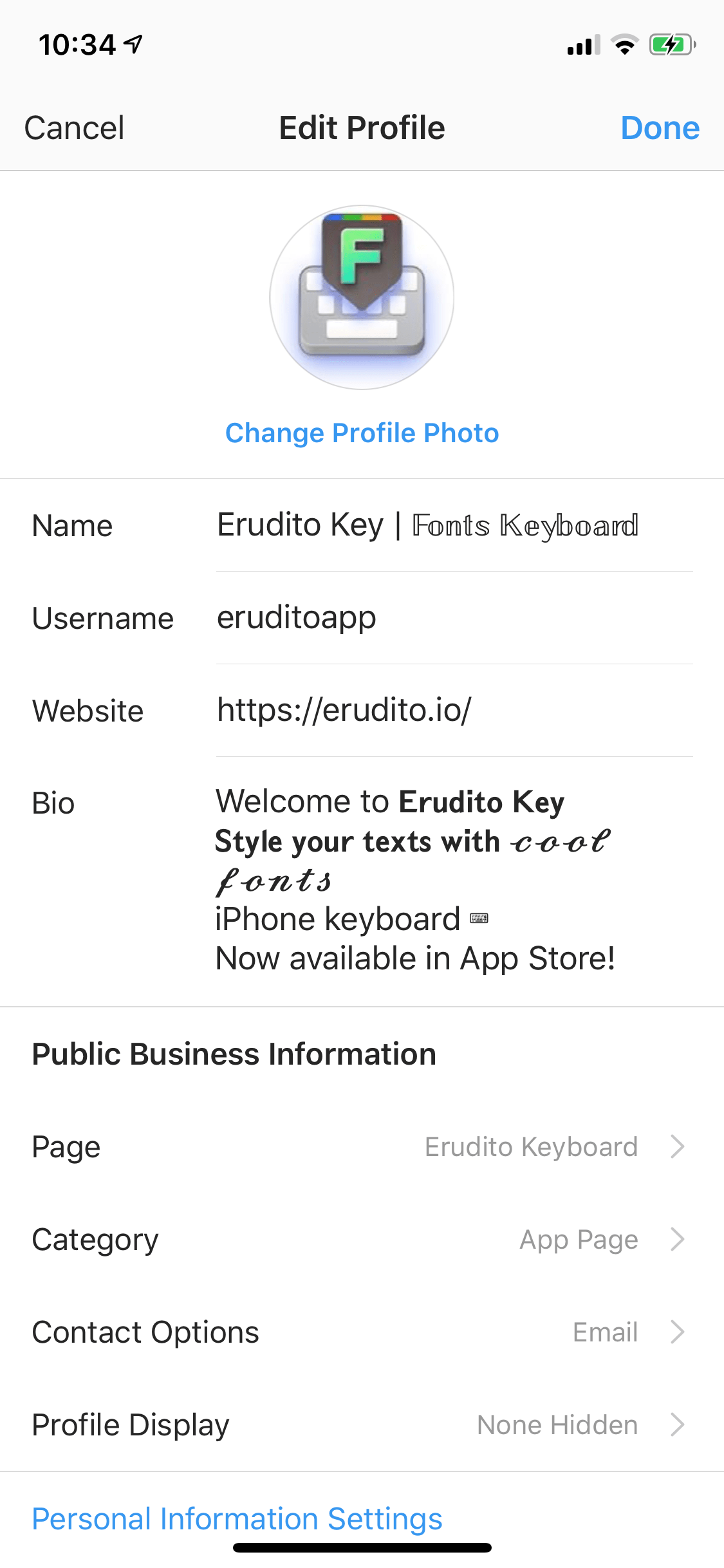 Why this is a hack?
If you are still here, let me tell you that, this is kind of a hack, Because these "fonts" are really part of Unicode, thanks tou Unicode these glyphs are available on modern computers, phones and tablets. And that let you get away with using weird fonts in your bio and in other places. If you are interested about these topic, you can keep reading about this on Wikipedia
This document was last updated on 2020-02-04